Spring is in the Air
Spring is in the Air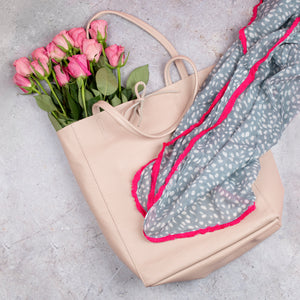 We are beside ourselves with happiness with how our brand is evolving. We've worked really hard to grow our little business and are over the moon with our 7500 instagram following.  Behind the scene we continue to strive to offer products we LOVE  in a really busy market place. It is getting harder and harder to offer something unique at a reasonable price.  There are new retailers appearing all the time.
We have lots in store for Spring 2020 and beyond and can't wait to share more with you. We've found a brilliant supplier for our jewellery, based in the UK which has been a sellout.  We are still growing our clothing offering and are currently designing new organic summer tees and a small selection of sweatshirts.  Again this is just stuff we want to wear and will wear day in, day out.  Our Joplin bags have been a total winner and will be coming back in new fresh colours.  We're also launching a range of leather goods alongside our pu Joplins so we can offer variety at all price points.   There are plus sides and negatives to the productions of both leather and faux leather but at the forefront of our minds is being mindful of our carbon footprint, not buying too much excess and using and reusing things we love - which we hope our products will be.  We don't want to create fast fashion pieces that will quickly date, we want to champion using things to death...you've all got that favourite piece that you wish you'd bought more than one of....
Thanks for sticking with us. There is so much just around the corner so keep watching.
love Annie and Teresa x